by Elizabeth Tannen, written for Local Flavor magazine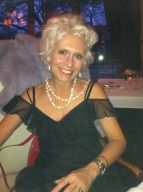 To walk into Lily Falk's Palace Avenue dress shop, Lily of the West, is to enter into a world of silk: long, satiny silk charmeuse gowns with delicate, floral designs; brightly colored dresses with layers of sheer chiffon; suits of thick velvet crepe with stunning leaf-life patterns.

As the designer sits in her miniature-sized shop, wearing a bias-cut dress of her own design (in which she and her petite figure look totally stunning, by the way, though she insists the cut is flattering for all shapes), Lily talks about why it is that she works primarily in silks. And it's clear that her reason explains not just her choice of fabrics but what draws her to fashion in the first place: It's all about the way the clothes move.

Lily isn't concerned so much with the way that the clothing looks on the mannequins or in the photos, but the way it drapes on a woman's body, the way the clothing lives in the world.

"You have to realize there's movement," she says. "It's not only what looks good standing still, but when they're moving around."

The vibrancy of the colors is also extremely important to Lily, which a quick glance around the shop makes evident. Her palette is broad and rich: bright reds and deep maroons, emerald greens and mustard yellows, chocolate browns and rich purples. Her signature dress—the one featured on the shop's postcard and on the homepage of her website—features a bouquet of color. A positively exquisite off-the-shoulder gown with ruching down the center and a long train, the fabric has a dense floral pattern with varying shades of yellows, reds, pinks, blues, and greens.

Lily describes her designs as romantic, classic, elegant, and timeless, adding that many of her clients have been wearing the same looks for 10 to 20 years.

You could absolutely see her dresses in some gorgeous British period piece, the heroine milling about a garden party in one of her extravagant gowns. But Lily isn't interested in costume design. She'd rather work with a real-life client to help her create the perfect dress for an occasion.

Lily has found joy in creating clothing since childhood. The oldest of eight children—her father was born in Germany, her mother the daughter of Swedish immigrants—the family moved around quite a bit, from Chicago to Florida to Southern California. Her mother and grandmother would sew clothes for the children.

"That was part of the tradition," Lily explains. And she would also help out with her own clothes; she remembers taking two pieces she'd outgrown and putting them together to make one that fit. When her birthday came around, she would ask her parents for a piece of fabric. As a girl, she also indulged in romantic fantasies about walking up marble staircases in princess gowns.

"Who knows where it came from," she muses. "I was just born this way. I've always been innately attracted to beauty; I see things other people don't see."

She started turning fashion into a living when she worked on a ranch near Telluride, where she made buckskin coats and shirts. "It was the opening of the West," she explains. "Everyone wanted to be cowboys!" So she began with men's shirts. But it wasn't until she moved to Aspen a few years later, she says, that she truly learned "the high art of couture."

She got a job at an alterations store in Aspen working with clients who wore couture clothing, and this gave her the opportunity to examine how the clothing was made. "The craftsmanship is really different," she explains, between a couture gown versus something sold in a department store. "That's how I learned the craft of delicate fabrics." (That's also where she sold coats to John Denver and Cher, among other famous names.)

By the late '80s, though, Lily moved to Sedona, where, in 1987, she opened the first Lily of the West store. The name is borrowed from the Irish folksong, sung by Joan Baez and Bob Dylan, but it also pays homage to the fact that Lily is a family name. Her grandmother was Lily and her mother was Lillian.

She relocated to Santa Fe in 2000, when business was booming so heavily the only space she could find was in an office building off Palace (right behind her current storefront). Eventually she moved to a space on Marcy Street, and then to her present spot, where she says she gets better foot traffic.

While Lily estimates that a little less than half her business is done off the rack out of her store, the better part of her work is custom design.

"After all these years," she says, "when a woman walks in, you know what kind of dress will work." But still, there is much that Lily takes into consideration when someone comes in requesting a custom-made dress. She wants to know the details of the event—the theme, the crowd, the time of day. She wants to know the type of shoe the client intends to wear. ("The heel," she sighs. "It makes such a difference.") She cues in not just to body shape, but also to carriage. "An energy, a sense..." is how she puts it. And of course, the budget.

Lily can spend as little as two weeks working on a dress and as much as a year. And in the end, seeing the client walk out satisfied makes it worth every minute. "When something fits and someone is happy it's incredibly satisfying," she says. "It's like fulfilling a dream for someone."

Many of her clients are women looking for gowns to wear to charity events. For a while, weddings became the dominant part of her business, and Lily developed a reputation as a designer for brides who wanted a "different" look. Weddings, though, have never been quite what Lily wanted to do. "It's quite a scene," she explains. "You almost have to be a therapist in understanding what the bride wants and getting them through it."

So while the current economy certainly presents challenges, Lily is grateful for the local support—Santa Fe and Albuquerque women coming in for custom dresses—that's helping her business stay afloat.

Some of the locals among Lily's past clientèle are familiar names: Valerie Plume, for one, turned to Lily for all the dresses she wore while promoting the film Fair Game. And one of Lily's proudest creations—a delicately beaded, high-collared, floor-length back gown proudly displayed in the back of the shop—was the dress that Alan Arkin's wife, Suzanne Arkin, wore walking down the red carpet on Oscar night.

If she could design a dress for anyone, Lily would like to garb Nicole Kidman. "Her elegance and composure is very inspiring."

But Lily's love for her work has little to do with celebrity. She sees fashion as "a celebration of life, of the self, of beauty." The clothes we wear have such a powerful impact on how we feel, she says: "The difference in how you feel in something that fits and feels really good versus something you just pulled out of the closet—it's just completely different." Of course, creating those perfectly fitting clothes is no simple task. When I ask Lily to name the most challenging aspect of her job, she exclaims, "Making it work!"

She compares her challenge to that of an engineer. "You have to take fabric and make it work for a three-dimensional object that moves and breathes!" she says. "It's a very intensive process." Fortunately for her clientèle, it's one that—over her many years designing and making clothes—Lily positively has mastered.

Contact Lily of the West to schedule an appointment.